This Safety Summary is not a Safety Data Sheet according regulation (EU) 1907/2006.
For Safety Data Sheets we refer to the suppliers of bromine.
IDENTIFICATION OF THE SUBSTANCE
Identification of the substance: BROMINE
Chemical formula: Br2
Chemical family: Halogens
COMPOSITION
Chemcial name: BROMINE
Concentration: > 99.8%
Cas no.: 7726-95-6
FIRST AID MEASURES
NO DECONTAMINANTS OTHER THAN WATER SHOULD BE USED ON HUMANS
Contact with skin:
Immediately flush/wash affected area with plenty of water while removing all contaminated clothing and shoes for at least 30 minutes.
Seek immediate medical attention.
Contaminated clothing and footwear should be discarded.
Contact with eyes:
Immediately flush/wash out with plenty of water for at least 30 minutes.
Seek medical attention.
Inhalation:
Remove patient to fresh air.
Keep them quiet and warm
Apply artificial respiration only if patient is not breathing.
Avoid mouth to mouth resuscitation. Use alternate methods: bottled air, bottled oxygen or a compressed air driven apparatus.
Pursue immediate medical attenntion.
Ingestion:
Do not induce vomiting.
Rinse mouth with water (DO NOT SWALLOW rinse water).
Never give anything by mouth to an unconscious person.
Obtain immediate medical attention.
General:
NOTE TO PHYSICIANS:
Rescuers should take suitable precautions to avoid becoming casualties themselves.
Corrosive to tissue.
No specific antidote, treat symptomatically and supportively.
FIRE-FIGHTING MEASURES
Not flammable but can cause oxidizable materials to catch fire.
Use extinguishable media appropriate to surrounding conditions.
Use waterspray to keep containers cool, knock down combustion vapours and extinguish fire.
Do not use water jet.
Portable containers should be moved if possible and without risk.
Wear gas tight Chemical Protection Suit and Positive-Pressure Breathing Apparatus.
ACCIDENTAL RELEASE MEASURES
Personal precautions:
Evacuate the area and keep personnel upwind.
Full protective clothing, including self-contained breathing apparatus, must be used. – see Section 8.
Environmental precautions:
Dike for recovery or absorb liquid with sand, earth or other non-reactive material.
Covering the surface of spilled bromine with plastic sheeting or chemical foam can minimise vapour release.
Neutralise liquid bromine with slaked lime, lime water slurry or soda ash.
Knock down vapour cloud with water spray (not jets), however, note that excessive use of water can complicate spill situations.
Methods for cleaning up:
Consult an expert.
Do not allow to enter public sewers and watercourses.
Where possible, contain spill control run-off.
HANDLING AND STORAGE
Handling:
Avoid breathing vapours and any other bodily contact.
Keep above minus 6.7°C to prevent freezing.
All personnel handling bromine should be fully trained and provided with suitable protective clothing. Enclosed systems should be used for processes involving bromine.
Pipework and tanks should be checked regularly for leaks.
In laboratories, bromine containers should be kept closed and only handled in fume cupboards or under extraction hoods.
Warm containers should be allowed to cool to room temperature before they are opened.
Before transferring bromine between containers, a check should be made that the receiving container has room for it.
Storage: 
Store in a dry, well-ventilated area away from incompatible materials (see 'materials to avoid'). Containers should be stored upright and all be clearly labelled.
Glass, ceramic nickel or lead containers are suitable for bromine. Lead-lined steel tanks can be used. Only highly fluorinated plastics will resist corrosion. A free space of 8-10% by volume should be left in the container.
PERSONAL PROTECTION
Exposure limit values:
OES/LTEL : 0.1ppm ( 0.66mg/m3)
OES/STEL: 0.2ppm (1.32mg/m3)
Applicable for all individual EU countries in 2007.
Respiratory protection: 
In poorly ventilated areas or confined spaces, use an airline respirator of self-contained breathing apparatus.
Hand protection:
Selection of a suitable glove depends on work conditions and whether the product is present on its own or in combination with other substances.
It has been found that gloves made from nitrile rubber or neoprene provide short-term splash protection.
Breakthrough time is dependent on the characteristics of the brand of glove used, consult your supplier.
Gloves should be replaced immediately if signs of degradation are observed.
Eye protection:
Chemical safety goggles or face shield with safety glasses.
Skin protection:
Wear suitable protective clothing and eye/face protection.
Environmental exposure controls:  
To prevent spillages entering the aquatic and soil compartments of the environment bromine storage should be placed inside a fully bunded area of sufficient size to contain the volume plus 10%.
Maintenance of a shallow layer of water in the bund or the provision of a trench system capable of quickly introducing such a layer is advisable to minimise release of vapour to the atmosphere. The use of bromine resistant anti-freeze agent may be necessary to prevent freezing at low ambient temperatures. Bromine installations should always be vented via an absorption/scrubbing system* to prevent fugitive emissions to the atmosphere.
*A suitable absorbent is 5-15% w/w sodium hydroxide solution.
PHYSICAL AND CHEMICAL PROPERTIES
Odour: Pungent
Appearance: Heavy, dark red fuming liquid
Boiling Point: 58.8°C @ 760mm Hg
Vapour pressure: 175 mm Hg at 20°C
Vapour density (air = 1) 5.5
Freezing point: -7.2°C
Relative density: 3.1 @ 20°C
Flammability: Not flammable
Oxidising properties: Strong oxidising agent
Solubility:
Bromine in water: 35g/L @ 20°C
Water in bromine: 34g/L @ 20°C
STABILITY AND REACTIVITY
Conditions to avoid: Extreme temperatures.
Materials to avoid:
Contact with combustible materials may cause fire.
Bromine is a very reactive substance, for example in the presence of water reacts vigorously with phenols, amines, hydrocarbons, organic acids and aromatic and aliphatic ketones.
Dry bromine reacts violently with many metals, notably aluminium, titanium, mercury and potassium and with phosphorus.

Hazardous composition products:
Stable under normal conditions.
Hazardous polymerisation will not occur.
DISPOSAL CONSIDERATION
Disposal can be a hazardous operation; seek specialist advice.
Dilute and neutralise before transferring to an approved disposal facility.
Disposal should be in accordance with local, state or national legislation.
TRANSPORT INFORMATION
UN number: UN1744
PSN: Bromine
Class: 8
Packaging group: I
Hazard ident. : 886
Labels + mark: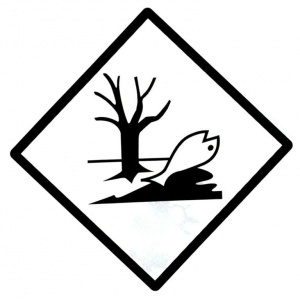 REGULATORY INFORMATION
EU Hazard Classification
Hazard Symbols:
T+; C; N 
Risk Phrase(s):
Very toxic by inhalation.  Causes severe burns.  Very toxic to aquatic organisms.
Safety Phrase(s):
Keep container tightly closed and in a well ventilated place.   In case of contact with eyes, rinse immediately with plenty of water and seek medical advice.  In case of accident or if you feel unwell, seek medical advice immediately (show the label where possible.  Avoid release to the environment. Refer to special instructions/Safety data sheets.
CLP Hazard Classification
Hazard Symbols:
Acute tox 2, Skin corr 1 A, Aquatic acute 1

Hazard Statements:
H330  Fatal if inhaled
H314 Causes severe skin burns and eye damage  
H400 Very toxic to aquatic life.
Precautionary statements:
P260
P304+340 (inhalation)
P305+351+338 (eyes)
P310 (medical assistance)
P403+233 (storage)
P501
Updated December 2010
The purpose of this document is to provide information and guidance to both bromine users and trained response personnel. The manual contains technical facts, engineering detail, health information and media response data.